How Interior Designers Can Use AI to Write a Blog Post in 20 Minutes
Sep 06, 2023
As an interior designer, you know that staying on top of trends and connecting with potential clients is essential for growing your business. Content creation is key in keeping up with the competition - but it's hard to find time to craft engaging blog posts when there's already so much to do.
On average, writing a blog post takes around 3 hours and 55 minutes. Do you have an extra 4 hours to write one post weekly? Probably not.
Luckily, artificial intelligence (AI) can help! AI-powered tools allow you to create high-quality blogs quickly and efficiently without sacrificing time - enabling you to focus more energy on design projects. Here's how interior designers can leverage AI writing tools like Jasper.AI to write a blog post in as little as 20 minutes.
Benefits of AI and How it Can Help You Create Better Content that Converts.
Leveraging the power of artificial intelligence has become indispensable. The benefits of AI are numerous and can help you create better content that converts. As an interior designer, incorporating AI into your digital marketing strategy can give you a competitive edge while providing an immersive experience to your clients.
Benefits of AI
Increased productivity
Improved quality of writing
Automation of the content creation process
Access to accurate data about the audience's interests and preferences
Reduced time needed for research
Cost savings associated with hiring writers or editors.
By adopting AI-powered tools and techniques, you can gain visibility in the crowded online space and reach a wider audience with your unique design styles. Not only will you be able to showcase your portfolio effectively, but you will also make more money by tapping into the right market.
With AI's ability to analyze data and predict consumer behavior, you can tailor your content to meet the needs of your target audience, thereby boosting engagement and conversions. So, if you're looking to stay ahead of the curve, it's time to embrace AI and revolutionize your interior design business.
Importance of Content Creation to Attract Website Visitors
Content creation has become a crucial aspect of digital marketing as it helps convert website visitors into leads and customers. 70% of consumers prefer blog posts over ads because blog posts give the reader more insight into your personality and qualifications. However, writing blog content can be time-consuming, and you may not have the resources to generate blogs consistently.
Content creation is pivotal for interior designers aiming to grow their design business for a multitude of reasons. Firstly, creating and sharing high-quality content helps establish your brand as an authority and thought leader within the industry. This fosters trust and credibility with your audience, which are key factors in their decision-making process.
Secondly, content is a crucial component of SEO strategies. Well-optimized content can increase your website's visibility on search engines, driving organic traffic and, subsequently, driving potential clients to your site.
Lastly, content lets you showcase your design skills, ideas, and previous projects, giving potential clients a taste of your aesthetics and capabilities. Creating engaging, valuable, and consistent content can attract and retain a clearly defined audience, ultimately driving profitable customer action.
How to Create Converting Content When You Are Limited in Time?
This is where artificial intelligence comes in. AI-powered tools can learn your business's brand, industry, and target audience to write blog content that is engaging and relevant. I use Jasper.AI. In it, I can use a feature that will scan my website and pick up on my voice throughout my current content. This helps when I create more blog posts because it will use that voice to write a post as if I were writing it.
To get started, clearly describe your blog post idea and include your audience and any details you want to cover.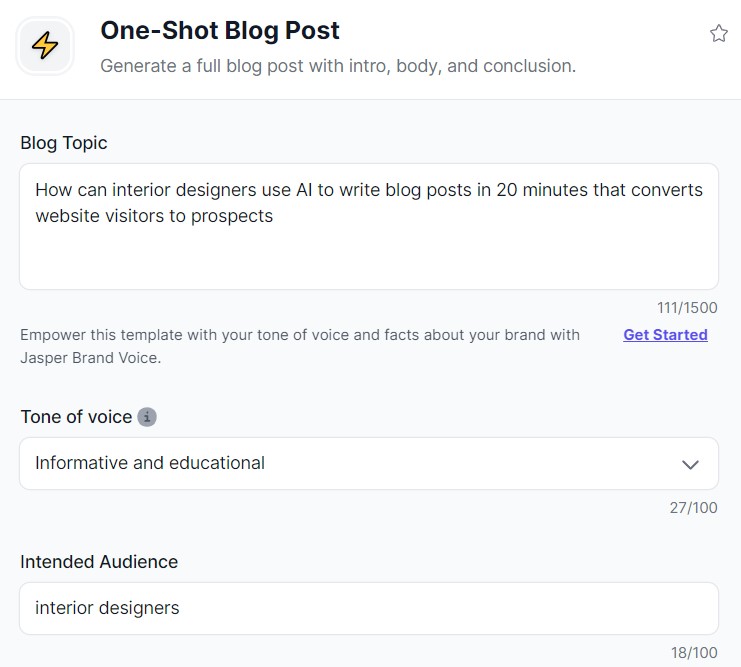 Now, I simply indicate how many versions – I usually stick to 2 or 3, and then select generate.
This prompt resulted in a 562-word blog post. Now, I can expand each section either by writing my own content or using AI to expand the content. Remember, the better your prompt, the better results you will receive.
Remember, with every blog post, you must include a call to action that encourages your reader to join your email list. I recommend a lead magnet, like a quiz, guidebook, mini-course, checklist, or ebook.
Pro-Tip: Create and keep a running list of potential blog topics. I use an App called Write by Voice, which lets me turn on my phone's microphone and ramble about an idea. I am notorious for coming up with ideas in the car or at bedtime when I don't have a pad of paper handy. The app will take what I say and write out the text; then, I can send it to my email.
Tips for Producing Quality Content with AI Assistance
Producing quality content is a demanding task for any writer. But, let's be honest, you are creating a blog post to help drive more prospects to your design business. This is where AI is a game changer for interior designers.
The better instruction or prompt you give, the better results are generated.
Use your SEO keywords and audience within your description.
Start small and try out a few small projects. As you work with AI, it will learn you, and you will learn it.
The content generated is a starting point. Do not copy and paste without editing and proofreading to ensure the content is correct and written in your voice.
Understand that AI will only go so far in-depth, so you may need to add more context to each section of your blog.
Read your content aloud to ensure it sounds right before hitting publish.
Add images to break up long bouts of content.
By following these tips, you can get the most out of AI-powered writing tools and produce quality content that engages and informs your readers. With AI, interior designers can generate blog posts in minutes instead of hours, allowing them to focus on other important aspects of their business. By leveraging the power of AI, businesses can boost their content marketing efforts and drive more traffic to their websites.
Take control of your marketing content today and stop feeling overwhelmed that you are not staying up on your marketing efforts. Sign up today for our upcoming webinar - Ignite Your Design Business with Artifical Intelligence: How Interior Designers Can Harness the Power of AI for increased Visibility and Profitability. It is free to attend.
Sign Up for Our Monthly Newsletter
Get helpful career, business, and design tips right in your inbox each month.
At Behind the Design, we are committed to building a stronger design community by reimagining education, training, and support for interior designers. Through our various software training options, educational articles covering everything from leadership to marketing, and soon Continuing educational courses, we are committed to helping you. Join our newsletter to get the latest education and training updates.
Sign Me Up!