How to Create a Call to Action that Converts Website Visitors to Prospects
Sep 20, 2023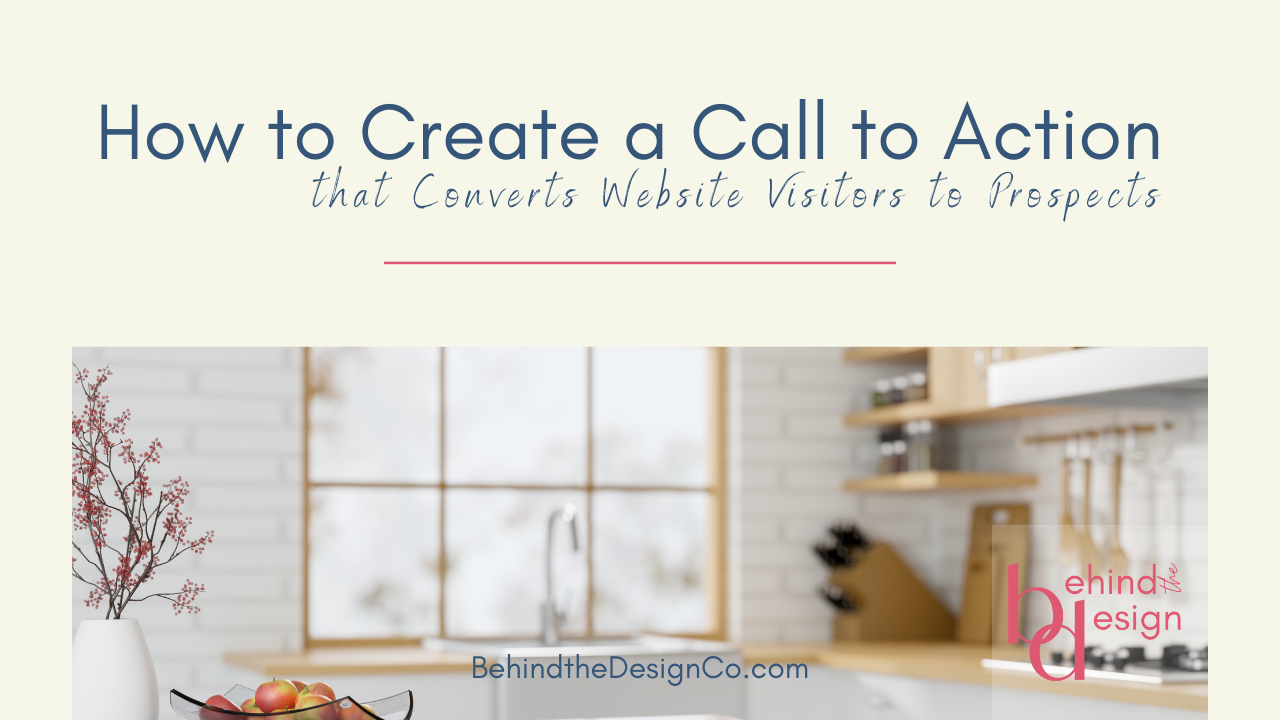 One of the biggest challenges that interior design businesses are likely to face when launching operations or working out how to grow an interior design business is bringing in new clients.
As you complete projects and increase your list of satisfied customers, you may get some business through word of mouth, but you can't rely on this. You need to be proactive when it comes to raising awareness of your brand and encouraging patronage.
Gaining exposure in the marketplace and reaching a target audience is step one. From there, you'll need strategies geared toward generating conversions like click-throughs to your website, signing up for membership/newsletters, and, ultimately, sales.
It's not enough to increase brand visibility through marketing – you must present your value proposition and create a clear call to action.
One of the most effective ways to gain notice and conversions is by creating relevant, timely lead magnets for interior design websites. What are lead magnets? How can they help you accomplish goals for growing your interior design business and driving traffic and conversions?
Here are a few tips to help you maximize your marketing efforts.
What Is a Lead Magnet?
A lead magnet is one type of marketing strategy used to grab consumer attention and encourage specified actions. It involves offering consumers something for free.
This free offer could include access to gated content like white papers or webinars that are typically for members only. It could be a free consultation or an exclusive discount for first-time customers.
The Psychology of Lead Magnets
Offering something for free can create immediate engagement and emotional connection with consumers. Why? It may be linked to reward centers in the brain.
Studies have shown that the brain releases feel-good dopamine not when we receive rewards but when we anticipate receiving them. The offer of something free creates positive anticipation that consumers find almost irresistible.
However, this is only half of the equation. A lead magnet wouldn't be much good if it only served consumers. Businesses need to get something out of it, too. This is where the principle/rule of reciprocity comes into play.
Encouraging Reciprocity
As social creatures, we tend to behave in ways that preserve social function. Reciprocity is a social norm by which people who are granted a favor feel compelled to return it. You've no doubt heard the phrase, "One good turn deserves another."
When you give consumers something for free, you not only forge positive associations with your brand but also create the conditions for reciprocity. A good example is providing access to desirable content in exchange for providing an email address.
By offering something free, you create ideal conditions for converting your target audience into strong leads and, eventually, paying customers.
Why Use Lead Magnets to Grow Your Email List
When marketing your interior design business, it's important that you maximize your return on investment (ROI). Lead magnets are a particularly effective tool for lead generation.
A survey of marketers showed that an estimated 50% experienced the greatest lead generation from inbound marketing strategies, like lead magnets, that compel consumers to fill out online forms.
Convincing consumers to part with their personal information isn't easy, but it's incredibly important because it provides you with direct access to leads who are looking for your services.
Building an email list is imperative for small business owners because it gives you the greatest control over how and when your messaging reaches consumers. Incorporating lead magnets into your marketing strategy is one of the best ways to grow your email list.
What to Know Before Creating a Lead Magnet
If you put time and money into creating a lead magnet, you want to ensure it has the best chance of generating desired conversions. This starts with understanding your audience and their needs and creating a strong and compelling value proposition.
You also need to think carefully about your funnel, or the pathway that guides consumers from your marketing content to completing desired actions. How can you optimize your efforts to see the greatest response and ROI?
What Is Your Target Market Looking For?
Whether your primary business is residential or commercial interior design or you offer both, connecting with your audience requires you to understand their needs. Plenty of consumers are seeking your services, but how do you get them to choose you over competitors?
Demographic information is an important part of targeting the right audience, but beyond traits like age, gender, marital status, education, occupation, and socioeconomic status, you might need to get more granular.
You should also consider psychographics like lifestyle, values, and behaviors to better understand who you're marketing to and how to connect with target consumers in meaningful ways.
In addition, you need to focus on their pain points. This allows you to present your business as a unique solution that can meet their needs. When you know what your target market is looking for and what challenges they face, you have the best chance to gain an edge over competitors with insightful lead magnets.
Your Value Proposition
When you create a lead magnet, what you're really offering is increased value. When people get something for free, they typically have lower expectations for perceived value to begin with, which gives you every opportunity to meet and exceed expectations.
That said, you have the best chance of generating conversions if you offer a freebie that appeals to your target audience. It should be relevant to their needs, for starters. If you're offering access to gated content, for example, it should provide information or insight that consumers seeking interior design services might need.
A free consultation is an effective lead magnet because it allows you to connect with serious leads and prove that you're the best choice. Think carefully about what you plan to offer to ensure it's not only enticing to your audience but delivers desired returns.
Setting Up a Funnel
A sales funnel could be most easily categorized as the journey a customer takes from the time they become aware of your brand and start interacting with your marketing content (i.e., click-through).
It continues as they form opinions based on your content (marketing, website, etc.), consider conversions like signing up for membership or making purchases, and finally, follow through on those actions.
The problem is that they might diverge from the path at any point. You want to create funnels that increase your chances of successful conversion. This means utilizing effective delivery methods for messaging, following through with promised value, and compelling desired actions.
Tips to Creating a Converting a Lead Magnet
A lot more goes into creating a successful lead magnet than throwing out an arbitrary freebie. You must design offers that make sense and deliver something relevant and desirable to your audience. You have to provide value that consumers are seeking or create conditions where you're providing something they didn't even know they wanted.
In the process, you need to remain true to your brand, connect with your audience at their level, and create messaging that guides prospective clients and helps you accomplish specific goals (i.e., conversions). There are a few areas to focus on when it comes to creating effective lead magnets.
Focus on Branding
As an interior designer, in some ways, you are your brand. It's not enough to let your work speak for itself — you need clients to like you personally. Branding is an important part of creating an image and reputation that help drive business. It influences how consumers perceive your business and what their expectations are when they hire you.
When creating lead magnets, you need to make sure they align with your brand image and strategies. If, for example, you're catering to an elite, luxury clientele, you wouldn't necessarily want to offer deals that make your services seem cheap or make you look desperate.
If your audience is more expansive, you wouldn't create a lead magnet that makes you seem out of touch with the average consumer. Staying true to your branding with suitable lead magnets is a critical part of compelling desired actions.
Connect With Your Audience
The intent behind your messaging is obviously important, but so is how you present it, and you need to know your target customers in order to understand how to connect with them.
To some degree, you have to create content with the lowest common denominator in mind. This could mean avoiding confusing or pretentious jargon that will alienate consumers from the start.
You should also try to connect with audience members in personal and meaningful ways. This requires you to understand their motivations, behaviors, wants, needs, and pain points. Your messaging should always be clear and compelling.
Create Actionable Messaging
The CTA, or call to action, is perhaps the most important part of any lead magnet or sales funnel. At the most basic level, it must clearly and concisely tell consumers what kind of action is expected — click here, visit a website, join a mailing list, etc. It should also create a sense of urgency — buy now, sign up today, and so on.
However, the best CTAs also include the element of motivation, or a "why" to go with the what and when — click now to learn more, contact us today to take advantage of this limited-time offer, or join now to gain access to the latest discounts and deals.
A CTA that is clear, compelling, and urgent has all the elements necessary to drive conversions, guide prospects through desired funnels, and convert them to leads.
What to Do When Your Efforts Generate Leads
If you've created an effective lead magnet and CTA, you should see an uptick in traffic and, hopefully, other conversions like lead generation. To capitalize on these conversions, you need to strike while the iron is hot.
In other words, email them immediately to confirm the address provided and thank them for signing up. You should also take this opportunity to offer additional value, such as the opportunity to receive your newsletter or information about promotions, for example.
You can use automated software for this purpose if you're too busy to respond to every lead, but the personal touch can go a long way toward endearing prospective clients to your brand.
When you understand your audience, offer a strong value proposition, and create effective lead magnets, you have the best opportunity to drive desired conversions, like click-through, lead generation, and sales for your interior design business.
If you're looking for the right way to build a profitable sales funnel, Behind the Design is here to help. Our free guide will help you get started and learn how to craft an effective sales funnel that can bring in more leads and increase your bottom line.
Take advantage of our free download, An Interior Designer's Guide to Building a Profitable Sales Funnel. With this tool, you'll be able to understand the purpose of a sales funnel and gain valuable tips on creating yours with ease. Get started today with Behind the Design!
Sign Up for Our Monthly Newsletter
Get helpful career, business, and design tips right in your inbox each month.
At Behind the Design, we are committed to building a stronger design community by reimagining education, training, and support for interior designers. Through our various software training options, educational articles covering everything from leadership to marketing, and soon Continuing educational courses, we are committed to helping you. Join our newsletter to get the latest education and training updates.
Sign Me Up!